This is an image of the orchard from earlier in the year.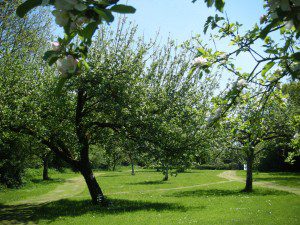 The apples are now on the trees and should be ready for picking in September / October. As in previous years we will invite our guests to help themselves. They make great apple crumble!
We also have lots of blackberries on the bushes so why not push the boat out and make a blackberry and apple pie.
South Coombe looks wonderful in the late summer / early autumn. If the air turns chilly, just light the wood burner in your cottage or turn on the central or underfloor heating and relax.
We still have some availability for September and October and we hope to be able to welcome you to South Coombe.