Facilities at South Coombe
Our indoor swimming pool complex is a very popular facility with our holiday guests. It houses a 10 metre x 5 metre indoor heated pool, a Finnish sauna, a toddlers play room and a large indoor games room.
The building, which from the outside resembles a barn, is carefully sited between mature trees and hedges so that it does not interfere with the natural beauty of South Coombe.
Outside it is landscaped with terraces, plants and shrubs enclosed by the existing natural Devon banks in order to make the most of its sunny south-facing aspect.
Wheelchair access
The main entrance is approached by a ramp in order to facilitate easy access.
"We were two couples and a six month old baby, and South Coombe provided everything necessary for the baby – high chair, travel cot, bouncer – and there was a play room. The swimming pool is fantastic. We stayed in Orchard Cottage, and it had everything we could possibly want. The standard of accommodation is excellent."

TripAdvisor Review, March 2017
---
Heated indoor swimming pool
The swimming pool is housed in a large airy space with wonderful oak beams straddling the large vaulted ceiling. The water is at a constant depth of 1.2 metres and is kept comfortably warm.
Sauna
Overlooking the pool is our Finnish sauna, completely clad in specially treated timber and with a smoked glass door. Adjacent to the sauna is a shower for use before and after using the pool and the sauna.
---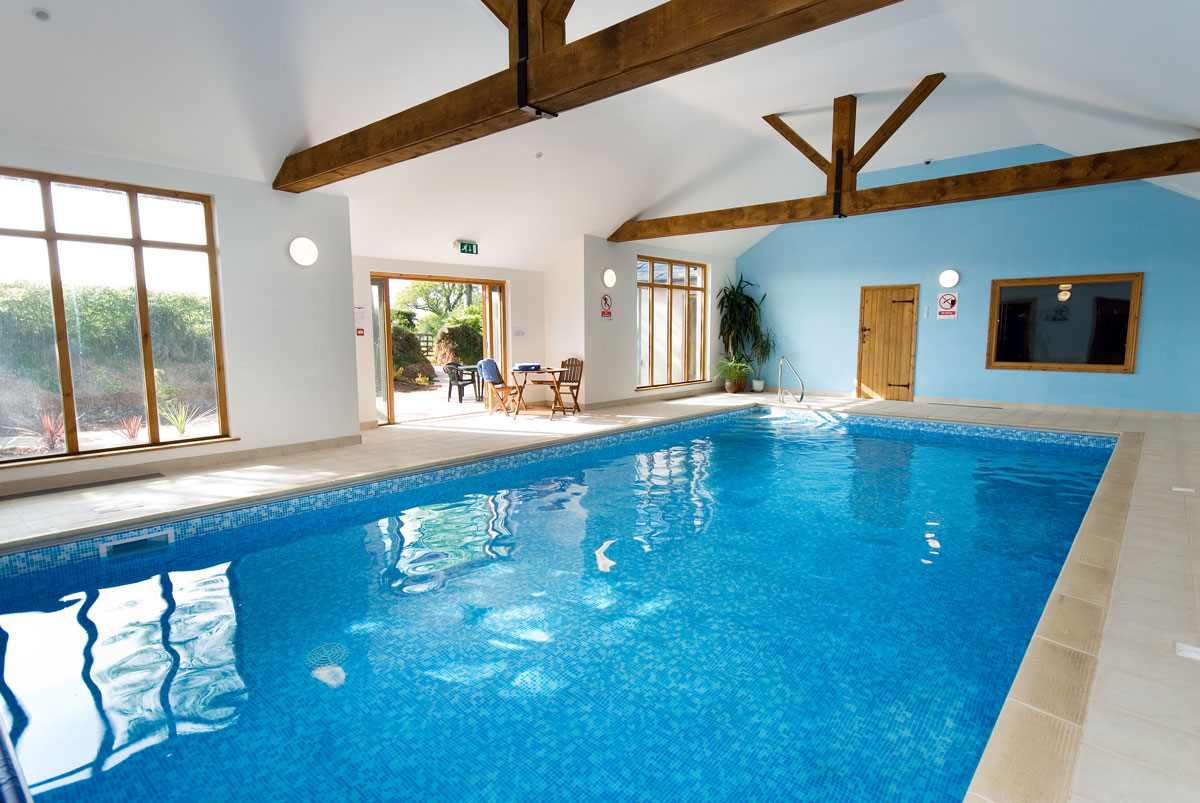 ---
Pool Timetable
Due to new health authority measures, each cottage now has exclusive use of the pool and games facilities for 2 hours per day. The total daily open hours are 8am until 8pm.
Your daily time allocation is shown in the table below:
| | | | | | | |
| --- | --- | --- | --- | --- | --- | --- |
| | Orchard | Tilly's | Saffi's | Drake's | Jonquil | Merino |
| Monday | 10-12 | 12-2 | 8-10 | 2-4 | 4-6 | 6-8 |
| Tuesday | 12-2 | 2-4 | 10-12 | 4-6 | 8-10 | 6-8 |
| Wednesday | 2-4 | 4-6 | 12-2 | 8-10 | 10-12 | 6-8 |
| Thursday | 4-6 | 8-10 | 2-4 | 10-12 | 12-2 | 6-8 |
| Friday | 2-4 | 10-12 | 4-6 | 12-2 | 8-10 | 6-8 |
| Saturday | 8-10 | 2-4 | 10-12 | 4-6 | 6-8 | 12-2 |
| Sunday | 10-12 | 2-4 | 12-2 | 4-6 | 8-10 | 6-8 |
Please note: Tikes cottage is both Tilly's and Drakes cottages, which are joined together. Therefore Tike's pool times are both Tilly's and Drakes and this is a total of 4 hours per day with both sessions.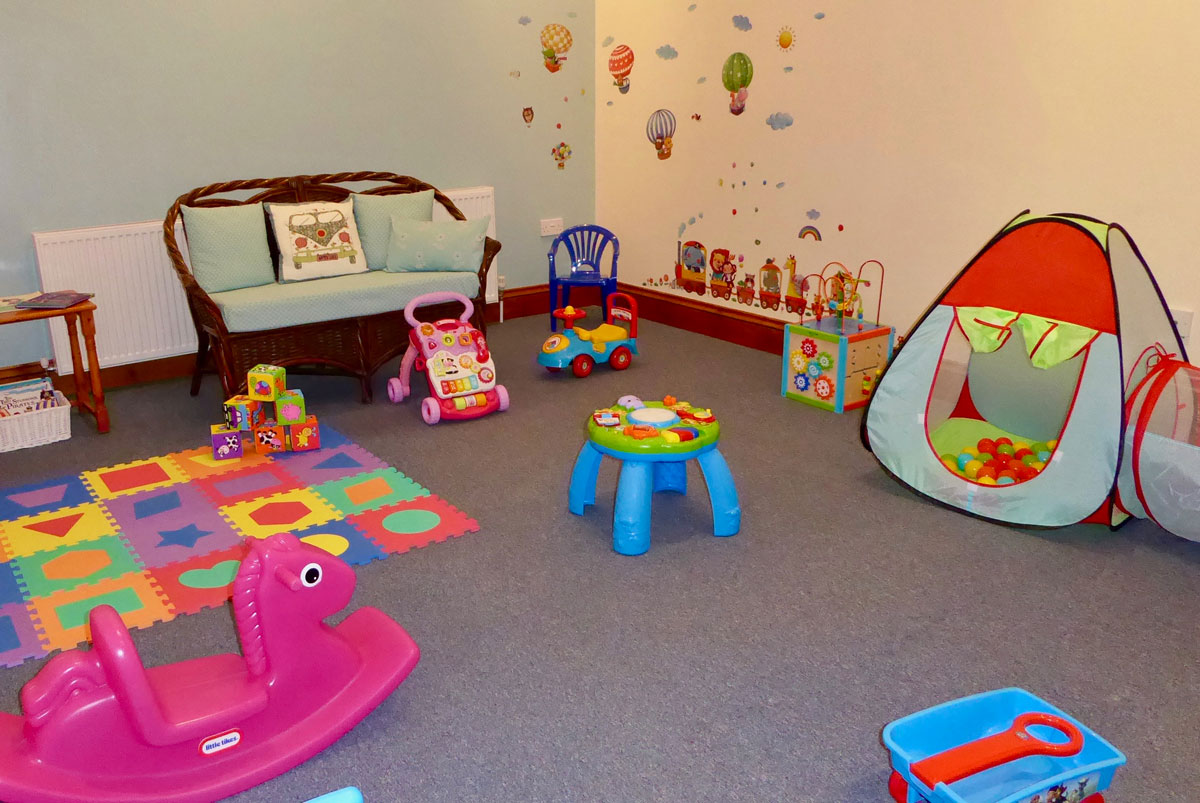 Toddlers Tumble Room
Specifically designed for our younger guests, this is a place where children can feel safe and secure.  From colourful building blocks to tents and tunnels this is the perfect space to encourage imaginative minds to discover fantasy and fun.
For the parents, a place to sit and observe the children having fun!
Games Room
Our games room, overlooking the terrace, is also a large airy room with a high vaulted ceiling.
It houses a full – size pool table, a table tennis table and a table soccer game. All are free of charge.
See also: Things to do locally >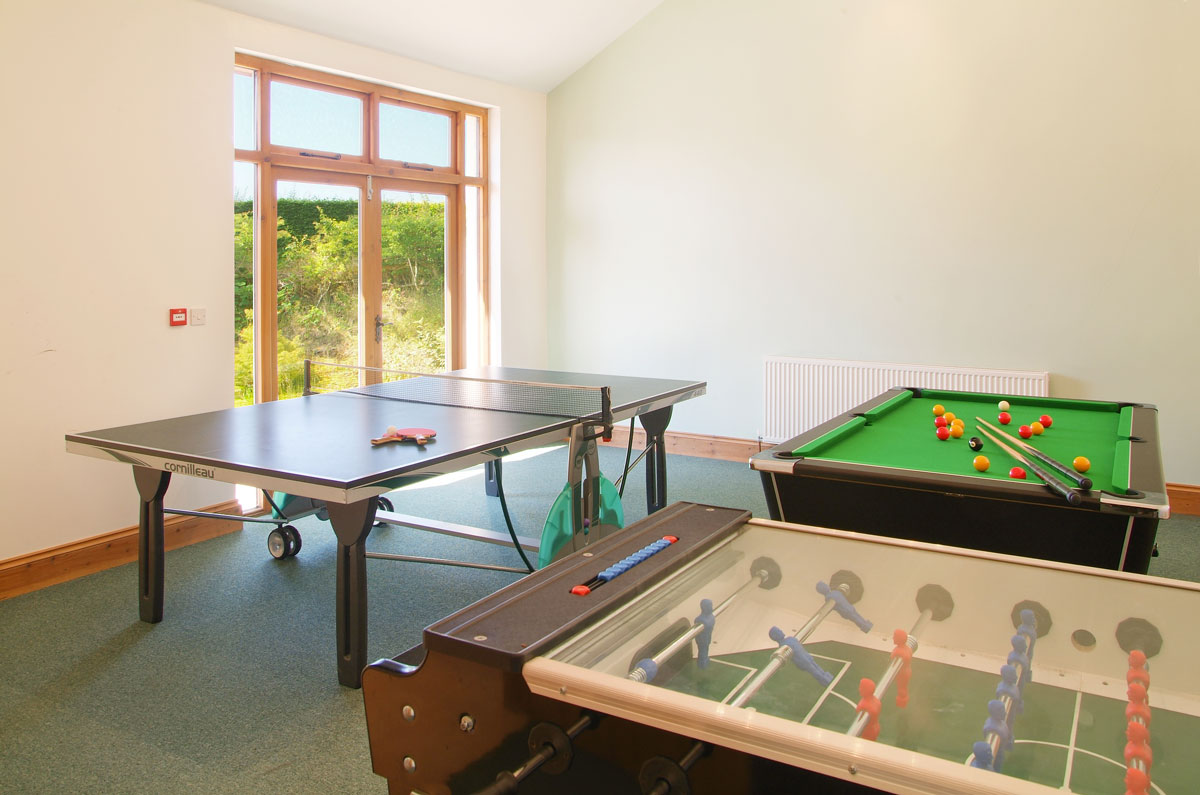 Changing Rooms, Showers and Toilet Facilities
Finally, the building also houses a family-sized changing room, complete with shower and toilet, and a separate disabled toilet.
The temperature and humidity of the building is maintained by computer-controlled air handling and heat recovery systems in order to make it a comfortable place to enjoy whatever you are doing.
Be sure to visit the complex during your stay at South Coombe. If you do, you will see why we are very proud of it!
---
"We had a perfect week here – the cottage itself is wonderful with everything you could wish for … I don't want to overuse the word perfect but it really was. The children loved the swings and climbing frames at the end of the orchard and the surrounding countryside. The owners are so welcoming and suggested some really good days out … I can't rave about this place enough, words just don't do it justice – feel very lucky to have found it."

TripAdvisor Review, summer 2016
---
---
Adventure Playground
This great play area is situated at the top of the orchard. Grass pathways lead the way up through the trees to the swings, slide and climbing frame.  A picnic bench alongside is the place for parents to sit, admire the view and watch the children having fun!!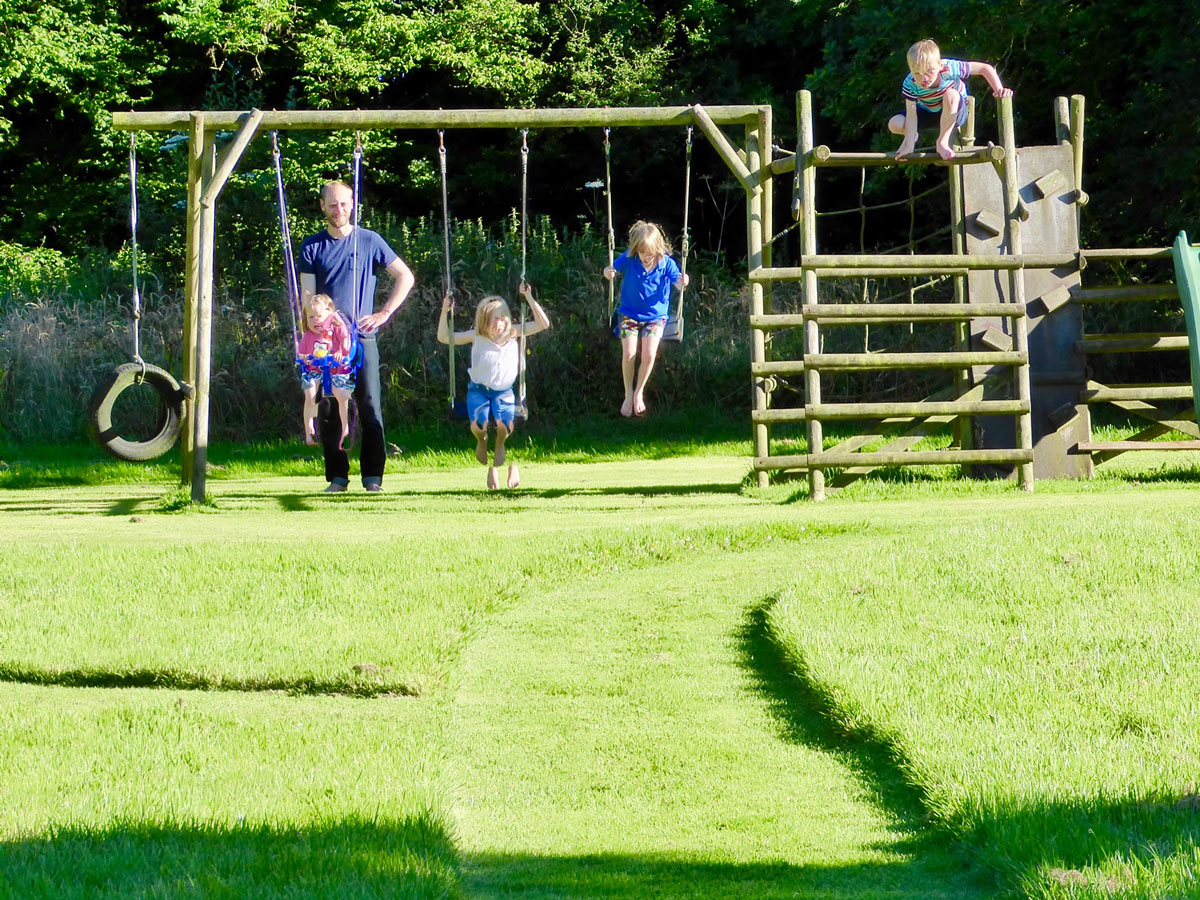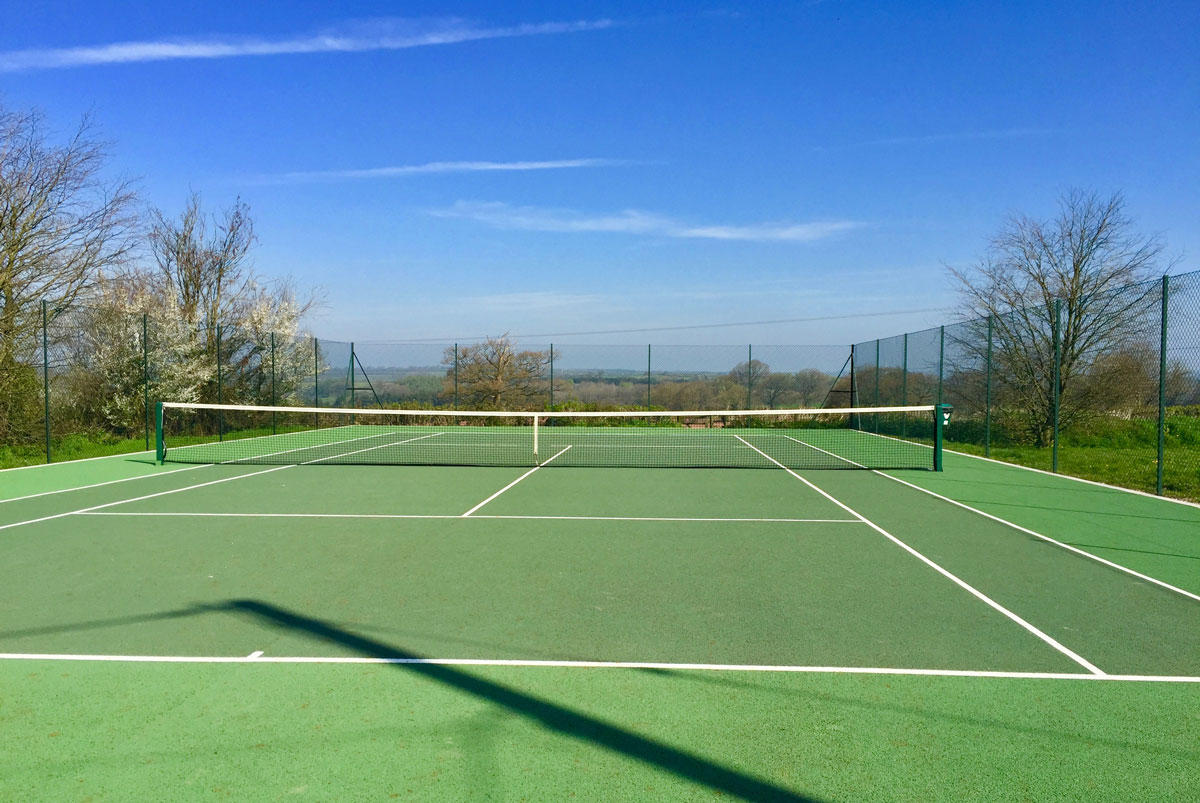 ---
Local Tennis Courts
All of our guests can use the recently refurbished hard tennis court free of charge. The tennis court is owned and maintained by Witheridge Tennis Club, of which South Coombe is a member.
It is located in the village of Witheridge, less than a mile away.  This a super facility on our doorstep and a great way to keep fit!
Site Plan
For more of an overview you may be interested to see our site plan:
South Coombe site plan >
---
When you are ready
Check availability and prices for the cottages you are interested in:
Book your stay >